In Japan's leisure and entertainment industry, a particularly attractive sector is the "pachinko" industry. There are those who misunderstand it because of its past image, but now its scale is very large and it harbors substantial possibilities. The old, outdated image aside, it is by means of outlining the present situation that we hope to deepen understanding of the pachinko industry.
Giant Leisure Market: Pachinko Industry
The Pachinko/Pachislot industry: The royal road to entertainment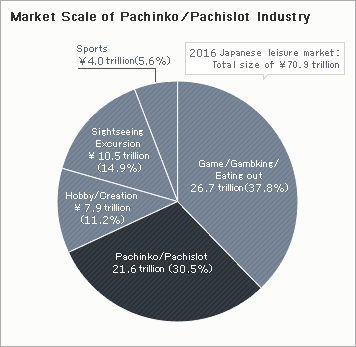 In the present era, with its diversification of values, in like measure there is diversification in the use of holidays and free time – how people spend their leisure.
Spending on leisure is what constitutes the "leisure market." According to the White Paper on Leisure, that market's total value is presently about ¥70 trillion. Within that market, the scale of the pachinko industry's market has trended in the range of ¥21trillion, or some 30% of the total. In addition, the number of people participating in pachinko/pachislot is said to be roughly 9.4 million persons, or about 1 in 13 Japanese on a simple computation.
Pachinko/Pachislot market directions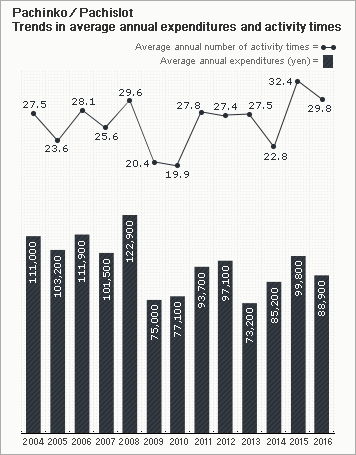 The pachinko-playing population itself has been shrinking for several years, but with the machine manufacturers have been bringing out machines with high quality contents in recent years, the average annual number of activity times per player has been increasing in recent years, as in the accompanying graph.
Selling prices have been advancing in conjunction with development of high function machines, and the market scale of pachinko/pachislot machines is increasing.
Manufacturers with good quality contents and who can create hits are garnering high market shares. The top 5 manufacturers of both pachinko and pachislot machines account for more than 65% of total sales, as the industry morphs into a two-tier structure. (See the accompanying graphs.)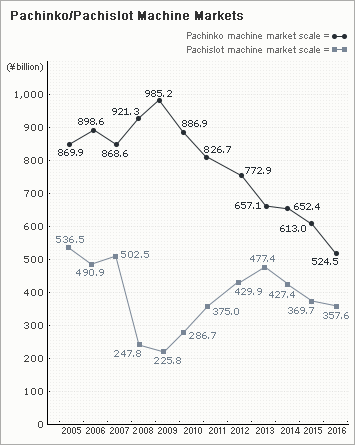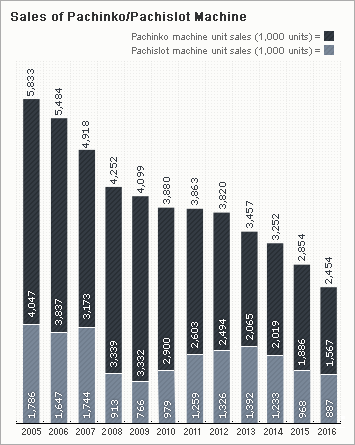 History of the Pachinko industry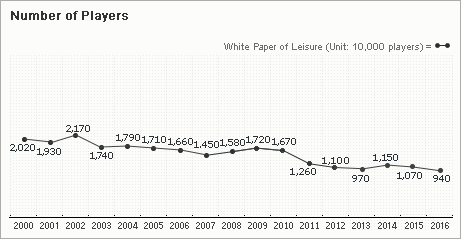 The industry has a history of more than 70 years. The present machine configuration dates from 1948, when the prototype Masamura Gauge appeared. Up to that time, nails were spaced evenly on the backboard and the machines were not much fun. But the advent of the Masamura Gauge, on which nail spacing could be adjusted, brought about a quantum leap in enjoyability and enabled the intervention of player skill. The Masamura Gauge sparked the first pachinko boom. After that, in tandem with the progress of technology, the "Tulip," "Fever" and other attractive models drove popularity, and Japan saw frequent pachinko booms. In recent years, machines mounted with LCD screens have become the mainstream, enhancing their entertainment attributes. Thus it is that the pachinko industry has built up a history, and provided pleasure to the populace.

"Masamura Gauge All 10"
(Masamura Shokai)

"Tulip"
(Narita Shokai)

"Fever"
(SANKYO)
What are Pachinko/Pachislot?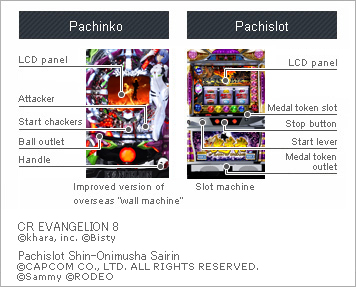 Pachinko is played with metal balls with a diameter of 11mm and a weight of 5 grams. The balls are launched with a handle. If any fall into holes called start chackers, the liquid crystal screen in the center of the backboard produces a variety of performances; if any are winning designs, the player has made a big hit and is rewarded with more balls.
Pachislot is played with coin-shaped medal tokens with diameters of 25mm or 30mm. After insertion into the medal token slot, pressing the start lever sets the reels spinning. Pressing the Stop button stops them. If they show a winning design, the player is rewarded with more tokens.
Players who win balls or medal tokens can exchange them for desired merchandise or premiums.
The fun of pachinko/pachislot resides not only in winning more balls and medal tokens. Recent years have seen the advent of animations, comics, dramas, movies and a wide range of other contents. On the screen, they spread out dramatic stories and fun productions. With pachinko/pachislot, players can feel nostalgia, experience excitement and thrills, and enjoy stimulating productions. In short, the industry provides to customers "time consuming leisure," in comfortable venues where they can enjoy pachinko/pachislot. It is an "entertainment industry" with attractive contents.
Two-tiered manufacturers
In order to appeal to a wide range of age categories, manufacturers are continuing development of both hardware and software. In hardware, recent years have seen LCD screen grow larger and imaging chips with high capabilities, enabling brighter and more colorful productions. In software, the importance of production contents has risen. Keying off strong contents, manufacturers with planning and development power are generating a succession of hits. At present, they account for more than 65% the sales of the top 5 companies, causing a two-tier phenomenon among manufacturers.
Amusement Machine Sales Shares (fiscal year 2016)
| Pachinko manufacturers | Unit sales | Share of sales |
| --- | --- | --- |
| SANYO | 306,000 | 19.5% |
| Sansei R&D | 209,000 | 13.3% |
| HEIWA/OLYMPIA. [Note 1] | 192,761 | 12.3% |
| SANKYO [Note 2] | 172,954 | 11.0% |
| Newgin | 160,000 | 10.2% |
| Top 5 share | 1,040,715 | 66.3% |
Note 1: OLYMPIA's sales share includes HEIWA
Note 2: SANKYO's sales share includes Bisty
Source: "Trend and market share of Pachinko related makers" by Yano Research Institute
| Pachislot manufacturers | Unit sales | Share of sales |
| --- | --- | --- |
| Sammy [Note 1] | 215,736 | 24.3% |
| UNIVERSAL [Note 2] | 203,000 | 22.9% |
| KITADENSHI | 90,500 | 10.2% |
| HEIWA/OLYMPIA [Note 3] | 80,953 | 9.1% |
| Enterrise | 57,000 | 6.4% |
| Top 5 share | 647,189 | 72.9% |
Note 1: Sammy's sales share includes RODEO, and TAIYO ELEC
Note 2: UNIVERSAL's sales share includes Eleco, MIZUHO and Macy
Note 3: OLYMPIA's sales includes share HEIWA
Source: "Trend and market share of Pachinko related makers" by Yano Research Institute
The Space Called Pachinko Hall
Close and convenient entertainment venues
Pachinko halls are venues wherein anyone can experience entertainment lightly. In them are lined up a variety of pachinko/pachislot machines, with which many people enjoy their leisure time. Not satisfied with their present situation, the halls are seeking new customers by bringing in attractive machines, creating bright and clean interiors, treating customers with extra care, and developing a variety of policies and services in respect of both hardware and software. Pachinko halls do not simply provide amusement machines; they are evolving day by day into venues that offer entertainment that anyone can enjoy lightly.
Pachinko hall enlargement and chain configuration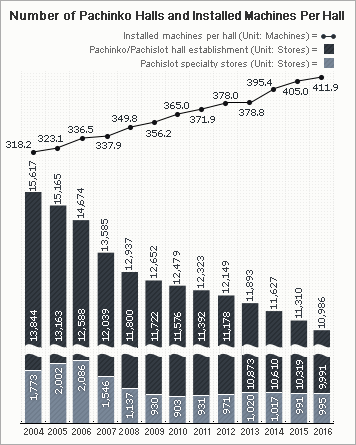 There are 10,986 halls nationwide. The number is declining year by year, but the total number of installed machines is not shrinking all that much.Therefore, the number of installed machines per hall is increasing. In other words, it is characteristic of pachinko halls in recent years that they have grown in size and taken on a chain configuration.
Business Opportunities Latent in the Pachinko Industry
Composing the Pachinko industry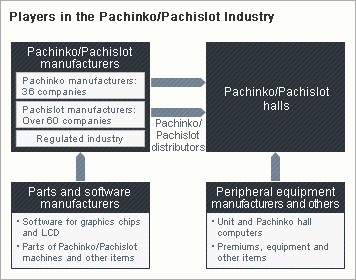 The industry consists of many sub-industries. There are makers that manufacture the machines, pachinko halls that offer playing venues, trading firms that sell the machines to the halls, assemble of software and machine parts, and assemble of ancillary facilities that deliver facilities, among others. Aside from these, there are manufacturers and wholesalers that supply the candy and other goods that the halls use as premiums, production companies that create newspaper ads, retailers that operate premium corners in the halls, and other participants that form the indirect market. There is thus a variety of sectors that simultaneously provide substantial employment in the pachinko industry.
Emerging derivative business opportunities
Attractive contents-driven machine popularity is giving rise to multiple derivative businesses. For popular machine models, game software, music CDs, character goods and numerous other contents have been developed. This is an industry that can make practical use of superior contents, which are being brought in from a variety of industries. Accordingly, it is not an industry of pachinko only; it harbors possibilities for widening out its attractiveness into multiple channels.
Thus, although it is already a huge market, in a pachinko industry that still harbors growth and business opportunities, there are great possibilities.
Earnings structure of Pachinko halls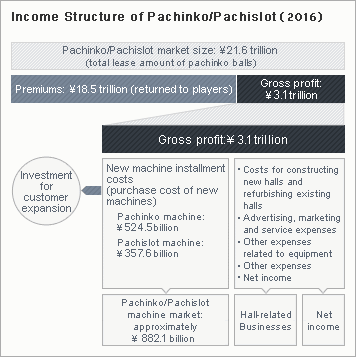 Contrary to the image of the pachinko market as scale of ¥21 trillion, the gross profit margin of pachinko halls is a very low 14% or so, inasmuch as about 86% of user expenditures is returned to customers as premiums. Relative to other markets, this is a very high ratio.
Further, not all of the gross profit flows through to net profit. The money the halls spend on establishing new venues, renovation, new machine substitution and advertising is deducted from gross profits.
In various other industries as well, it is very difficult to be always soliciting customers. In order to entice users into the halls, they frequently substitute new machine models. This is considered "investment in customer drawing," and halls with such high drawing power are those that generate profits. The pattern of management is that some of the profits are reinvested in new machines.
(Reference) Recording method of Pachinko/Pachislot machine
Methods for Recording Distribution Sales and Agency Sales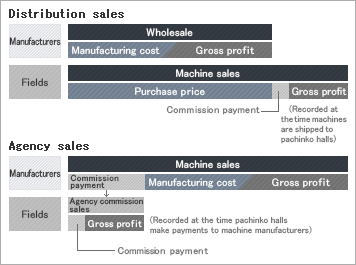 Pachinko and pachislot machines sales consists of two types, distribution sales and agency sales. Distribution sales is where the Company purchases pachinko and pachislot machines from a manufacturer and sells them to pachinko halls, and agency sales is where the Company acts as a sales agent for manufacturers, engaging in sales-related work and collecting a commission.
In distribution sales, funds from sales of pachinko and pachislot machines by the Company to pachinko halls are recorded in the Company's net sales. As a standard, these sales are recorded at the time the pachinko and pachislot machines are shipped to pachinko halls. Costs of sales include the funds used to purchase machines from manufacturers. In addition, in the case the Company uses an agency to sell the machines it has purchased, commissions paid to that agency are also recorded as cost of sales.
Meanwhile, in agency sales, commissions received from manufacturers are recorded in the Company's net sales in the event pachinko and pachislot machines are sold. As a standard, these commissions are recorded at the time the pachinko hall makes a payment to the manufacturer. In the case the Company makes a direct sale to the pachinko hall, costs of sales are not recorded. In the case the Company uses an additional agency to sell the machines, commissions paid to that agency are recorded as cost of sales.
In other words, these two types of sales establish a structure that in the case the Company increases distribution sales, mainly net sales will grow; and in the case the Company increases agency sales, mainly profits will grow.
Sources:
Yano Research Institute, "Directions and Market Shares of Pachinko Related Manufacturers" 2017 edition
Japan Productivity Headquarters, "Leisure White Paper 2017"