Message from Hidetoshi Yamamoto, President and Group CEO
We sincerely thank our shareholders and investors for your extra support and appreciation.
In October 2022, our group shifted to a holding company structure, and the entire group is working together to realize our corporate philosophy of The Greatest Leisure for All People.

In the content and digital business segment, the movie SHIN ULTRAMAN, released in May 2022, was well received in Japan. This led to an expansion in the fan base of Ultraman.
In addition, Ultraman, which was born and nurtured in Japan, became an overwhelmingly popular content in China. With its popularity, Ultraman area opened in theme parks in Shanghai, Dalian and Chengdu, and sales of Ultraman goods were also strong.
In the future, we will establish Ultraman brand in Malaysia, Indonesia, Thailand, and other Asian countries where the popularity of Ultraman has already penetrated, and accelerate our global expansion.

The pachinko industry started a new market in February 2022.
Pachinko/pachislot machine (hereinafter, "PS") for new regulation is well received by halls and fans, and we are beginning to see positive signs of market expansion.
In addition, smart PS machine has the potential to attract new users. Expectations for smart pachislot and smart pachinko are rising.
In PS business segment, we will contribute to the development of the industry by providing unique value and services to allied manufacturers and pachinko halls nationwide based on the market-in concept cultivated from our position as a distributor, which is the starting point of our founding, in the market environment where stable growth is expected.

The entire group will continue to work diligently to meet the expectations of all stakeholders, and I would like to ask for your continued support and understanding.
June 2023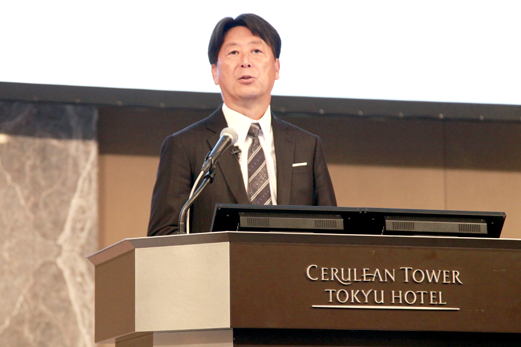 Hidetoshi Yamamoto, President and Group CEO
(The 35th Annual General Meeting of Shareholders)