FIELDS CORPORATION held a financial presentation for the first half of the year ending March 31, 2017 in OTEMACHI 1st SQUARE CONFERENCE (Chiyoda-ku, Tokyo) on October 28, 2016 (Friday) at 11:30 am.
This page provides an overview of our explanation at the financial presentation.
Tetsuya Shigematsu, President & COO
1. Overview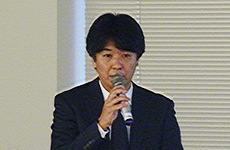 ⇒Page 2 of Financial Presentation
Regarding our financial results for the first half, we recorded net sales of ¥26.6 billion and an ordinary loss of ¥6.8 billion. These results may seem worrying but they were in line with our full-year projections.
In our full-year projections, we forecast that a large portion of our profit will be earned in the fourth quarter partly due to the December deadline for removal of pachinko machines. Therefore, we think our product groups currently being marketed will have a significant impact on our results for this fiscal year.
In addition, although no major progress was made in the first half year when it comes to overall cross-media development, we are getting positive results from the release of "GANTZ:O."
2. Summary of Results for the First Half of the Year Ending March 31, 2017 (Consolidated)
Consolidated P/L
⇒Page 4 of Financial Presentation
The table shows the consolidated P/L statement for the first half of the year ending March 31, 2017.
Regarding sales of pachinko/pachislot machines, approximately 44,000 pachinko machines and 28,000 pachislot machines were sold. This is also in line with our full-year projections.
Lineup of Main Pachinko and Pachislot Machines
⇒Page 5 of Financial Presentation
This chart shows our lineup of machines that have already been announced.
Pachinko titles set for release from the third quarter are "CR EVANGELION—Time to Rise" and "GANTZ," and pachislot titles for release are "LOAD of VERMILION," "INUYASHA," and "Monster Hunter: KYOURYU SENSEN."
Consolidated B/S
⇒Page 6 of Financial Presentation
The table shows the consolidated B/S.
In principle, it is linked to the sales of pachinko/pachislot machines. In addition, there is an increase in long-term loans.
These loans are related to the development of pachinko/pachislot machines. As the development line is stable, with a steady volume of sales forecasted, we have chosen to take out low-interest long-term loans, rather than short-term borrowings.
Consolidated cash flow
⇒Page 7 of Financial Presentation
The table shows the consolidated cash flow.
Similar to consolidated B/S, it is affected by proceeds from long-term loans.
3. Current initiatives
Initiatives in year ending March 31, 2017
⇒Pages 9 of Financial Presentation
In the mid- to long- term, we are working on acquisition and creation of leading IP, expansion of IP platforms and maximization of their values, and global development through expansion of markets. Our progress is as per the table shown. We will touch on each platform subsequently.
In principle, the acquisition and creation of IP is progressing as per our projections. We proactively expand IP avenues by using IP that can be distributed through a wide range of business platforms. In the expansion of markets, we continue to provide titles to SVOD. At the same time, we are looking at collaborating with local businesses in China as IP agents, turning titles into games and other products to expand into the vibrant entertainment market in China.
Total IP
⇒Pages 10 of Financial Presentation
This graph shows the total number of IP.
The number of IP handled by our company is steadily increasing. Meanwhile, we are ending plans for some titles, taking future costs into consideration.
Number of media development
⇒Page 11 of Financial Presentation
This graph shows the number of media development.
Together with the increase in the total number of IP, the number of development media continues to increase. The number of development media is expected to further increase due to expansion in film adaptation titles from next year onwards.
4. Main initiatives on each platform
Initiatives in the comic field
⇒Page 13 of Financial Presentation
For HERO'S, we will continue to actively create IP.
We also intend to increase proceeds by reprinting comics together with film adaptation.
For e-books, there is high demand from overseas, with the possibility of obtaining a certain level of proceeds from China. We are also considering turning popular titles into games.
Initiative in visual field
⇒Pages 14 of Financial Presentation
For HERO'S IP, the cinematic release of "MAJESTIC PRINCE" is scheduled for November. Since its first round of development in 2011, "MAJESTIC PRINCE" has been bringing in profits when released in various forms such as comics, television animation series, pachinko machines, and pachislot machines. We think the key points for the second round, which starts with the cinematic release, will be how we can invigorate this IP and expand profit from it.
In addition, there are plans for film adaptation of "Infini-T Force" and "Atom: The Beginning" in the next fiscal year, and we will be paying attention to how these can be used as springboards to further expand this business.
For collaborative IP, television broadcast of "BERSERK" began in July, and "GANTZ:O" was released in cinemas on October 14. "GANTZ:O" reached six place in the box office ranking during its first week of release. Due to the small number of cinemas in which it was showing, this dropped to tenth place in the following week. However, the total number of viewers grew steadily, and its quality was highly rated. We think this will significantly affect our IP acquisition in the future.
Initiatives with Tsuburaya Productions
⇒Page 15 of Financial Presentation
Broadcasting of "Ultraman ORB" will continue until December. We think transformation items will continue to sell well. We feel that our continuous television series broadcast has helped solidify the popularity of the Ultraman series among children.
At the same time, up to episode 15 has been distributed for video distribution worldwide and in China, with the number of views increasing 89% year-on-year to 480 million. We are also speeding up our expansion in sales of toys in China through collaboration with our partners.
In addition, we are planning a spin-off program on Amazon Prime Video starting from December. This is a new initiative by us to increase proceeds from "Ultraman ORB" while awaiting the start of next year's broadcast of the television series.
Initiatives in the game/license field
⇒Pages 16 of Financial Presentation
In the game field, we have been refining our titles for social games. For the current title "the Tower of Princess," we have recovered the cost of development and have started to reap proceeds from the game. At the same time, we have also decided to distribute the license for "Soul of Sevens" overseas.
We are revitalizing the license field, through means such as distributing HERO'S titles in the form of e-books and games. In addition, "A MAN of ULTRA" is being licensed to 60 companies, a year-on-year increase of nine companies. We are also receiving requests from various places for pop-up shops.
(Ei Yoshida, Senior Managing Director, Division Manager, Pachinko/Pachislot Business Division)
Initiatives in the pachinko/pachislot field (market environment)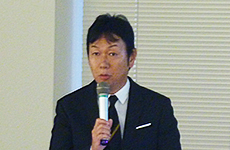 ⇒Page 17 of Financial Presentation
In the pachinko market, the removal of pachinko/pachislot machines with possible performance variance from test machines is progressing smoothly. We expect removal to be fully completed in December. Replacement with new standard machines is also actively underway. We plan to bring in "CR EVANGELION—Time to Rise" in December, and we think this will significantly contribute towards the revitalization of pachinko halls. In addition, many manufacturers are releasing major titles successively toward the end of the year, and we think this should revitalize pachinko halls during the New Year holiday shopping season.
In the pachislot market, close to 40% of installed machines are old standard machines. The contribution of new standard machines towards operating and gross margin is lower than expected, and we will need to proceed with caution in bringing new standard machines into pachinko halls.
Initiatives in the pachinko/pachislot field (Pachislot Regulation 5.9 Machine)
⇒Page 18 of Financial Presentation
In the pachislot market, there is a new standard (Regulation 5.9 machine) aimed at preventing players from getting too absorbed. We are planning to shift to these new machines in September 2017. Although regulation 5.9 machines keep the stakes down while showing users clearly where the possible strike intervals are, we think there is an advantage as it will broaden the fan base and attract new customers. At the same time, we take the development of hassle-free pachislot machines as an opportunity to revolutionize our technology.
With the shift to regulation 5.9 machines in mind, we will continue to work on new inventions, discoveries, and innovation. Furthermore, we intend to strengthen our alliances with allied manufacturers to discover new business opportunities amidst the shrinking share of old standard machines.
Initiatives in the pachinko/pachislot field (sales strategy)
⇒Page 19 of Financial Presentation
Our product line-up currently being sold is as per the diagram.
We will continue to sell products high in gaming and entertainment value utilizing HERO'S IP and other leading IP. From the third quarter onwards, we will commence sales of "CR EVANGELION—Time to Rise" which is a machine series representative of our company in the pachinko market, as well as "Pachinko GANTZ," which we intend to serialize in the future. "GANTZ" has attracted much interest from halls as we have been proceeding with development without making any compromises, as well as from the synergy effects of the cinematic release. For pachinko serialization, the minimum conditions are an appropriate number of installed machines and continuous contributions to operating share, and we are taking great care to meet these conditions. For pachislot machines, we are also planning to sell "Pachislot Monster Hunter: KYOURYU SENSEN," whose predecessor was very well received.
Finally, in the pachinko and pachislot field, we hope to continue contributing to proceeds by adopting a sales strategy exploiting our company's strength as a distribution trading company, such as simultaneously organizing exhibitions for multiple manufacturers, and presentations that take into consideration the operation and scheduled replacement of machines by other manufacturers.
(Eiichi Kamagata, Director, Division Manager, Cross Media Business Management Division)
5. Supplementary Information by IP
MAJESTIC PRINCE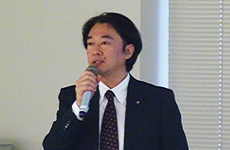 "MAJESTIC PRINCE" is an original IP created from "HERO'S Monthly." Its business model is based on film adaptation, followed by expansion into games, pachinko and pachislot machines, and other media. Although the initial investment was huge, being a few hundred million yen, overall earnings from cross-media development is positive since we expanded it into pachinko and pachislot machines.
For the second round of its IP development, we have planned a cinematic release, and we will continue to promote development in multiple platforms to maintain positive earnings.
BERSERK
The business model for "BERSERK" started with us acquiring a famous and highly popular IP. With film adaptation as a base, we expanded it into games and pachinko and pachislot machines. For the film adaptation, we kept initial investment low through collaboration with major partners. Together with high returns from pachinko and pachislot, this resulted in highly positive earnings.
The key point is how we can leverage this famous IP in its second and third rounds of development. For the second round, we have already started television broadcasting and video distribution. In addition, KOEI TECMO GAMES CO., LTD. is selling "BERSERK MUSO," and we think we will be able to expand "BERSERK" worldwide beyond what was achieved in its first round.
GANTZ
We acquired the rights for the film adaptation of "GANTZ" as it is an IP with a strong pachinko/pachislot flavor. Its business model is based on simultaneous expansion in both visual and pachinko fields. We hope to maximize profit from the IP by expanding it in various media towards its second and third rounds of development.
We feel we have raised our reputation through our high-quality film adaptation and business expansion of "GANTZ" and "BERSERK." We hope to continue raising our reputation in the future with this as a springboard, acquiring large IP and turning them into films and pachinko/pachislot to generate high proceeds, while expanding the avenues for cross-media expansion and expanding into China and Europe.