FIELDS CORPORATION held a financial presentation for the Q1 of the FY3/2019 at the E-Space Tower (Shibuya-ku, Tokyo) on August 10, 2018 (Friday) at 11:30 am.
This page provides our explanation (summary) at the financial presentation.
Kenichi Ozawa, Director
Summary of results for the First Quarter of the Year Ending March 31, 2019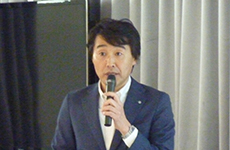 ⇒Page 2 to 5 of Financial Presentation
Results for the Q1 of FY3/2019 are as shown in each of the tables. They are generally in line with plans. Under ordinary loss, we have recorded a gain on the sale of securities, as well as a loss on the restructuring of our cross-media business and an impairment loss. Whereas there has been an improvement in our ordinary loss compared to the same period of the previous year, our loss attributable to owners of parent has deteriorated. The reason for this is that some idle assets were sold during the same period of the previous year.
To conclude, from the perspective of management efficiency, we progressed reducing our selling, general and administrative (SG&A) expenses, and over the full year, we expect to achieve SG&A expenses of 15 billion yen.
Ei Yoshida, Senior Managing Director
Explanation of pachinko/pachislot (PS) field (trends in the PS market)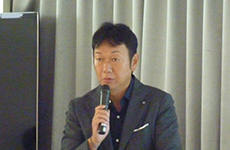 ⇒Page 6 to 9 of Financial Presentation
Trends in the PS market are as shown in the graphs on pages 6-8. The market has trended downward compared to the same period of the previous year (source: FIELDS). In the pachinko market, looking at monthly sales, the main difference is that a major title was released in May last year but the rest of the market appears to be unchanged from last year. In the pachislot market, expectancy for regulation 6 machines has meant the sales of current regulation 5.9 machines have been sluggish. Sales are down considerably compared to the same period of the previous year.
Moving onto states of model certification test, as described on page 7, the number of titles passing the testing is less than the number of applications. Some changes to the model certification test method were introduced in the Q1, and this could be a reason why manufacturers are struggling to get approval. As applications for regulation 6 machines have begun to appear, manufacturers are conducting research and are focused on planning and development of more interesting machines. We expect that regulation 6 machines with good specs will appear during the H2 of this fiscal year.
Finally, page 9 describes the time for switching to new regulation machines. By February 2021, we expect there will be demand for new machines following removal of about 4.08 million old regulation machines. We have also heard from many hall managers that they are thinking about opening new halls when replacement of the new regulation machines is completed, and so we expect that a certain demand and supply will be maintained in the market even after 2021.
Explanation of PS field (Product lineup Q1-Q2)
⇒Page 10 of Financial Presentation
The table here shows the lineup of PS products that we have announced. Most recently, sales of the old regulation machine, "CR INUYASHA JUDGEMENT ∞", has achieved as planned, and the machine has also contributed to the operations of pachinko halls. In addition, orders for the NANASHOW branded "CR ULTIMATE JUDGEMENT", which is scheduled for delivery in the H2 of this fiscal year, have far exceeded initial plans, and is expected to all but sell out. Meanwhile, as for pachislot products, we will sell a total of 5 titles of regulation 5.9 machines during H1. Despite the previously described market environment and the struggles during the H1 of the year, we are promoting various measures aimed at expanding sales during the H2.

Explanation of PS field (Forecast of FIELDS' initiatives in FY3/2019)
⇒Page 11 of Financial Presentation
Our outlook for the year ending March 31, 2019 is as shown in the table. One challenge for us will be how to build a stable earnings structure amid social changes, such as the revision of regulations and moratoriums on the replacement of machines. In the sale of new PS machines, in addition to the current old regulation machines, we will work on the full-scale sales expansion of new regulation machines from the H2 of this fiscal year. In PS solutions, with respect to the SG&A expenses required for pachinko halls to operate, we will make optimization proposals through various services.
Explanation of PS field ([Distribution] PS solutions)
⇒Page 12 to 13 of Financial Presentation
escribed on page 12, "WE" is a video information distribution service, the aim of which is to act as fair and equitable distribution platform designed to eliminate information gaps among pachinko halls, by distributing information that will help hall operations, such as information about new PS machines, in real time on a nationwide basis. We plan to roll out a full-fledged service from the Q3, delivering official PS machine information and so on in cooperation with manufacturers. In addition, described on page 13, "Fields AD Network" is an integrated marketing package that utilizes big data. A feature of this solution is that it measures the effectiveness of ads by detecting players visiting halls-something that was not possible with previous ad distribution services. At present, about 700 pachinko halls have introduced the service. Furthermore, in cooperation with group company, Fields Jr. Corporation, we are promoting a service that consolidates installation and parts checking operations, and already we have been commissioned by five manufacturers.
Consolidated subsidiaries' main activities in Q1
⇒Page 14 of Financial Presentation
This diagram shows the main activities of our consolidated subsidiaries during the Q1. From this fiscal period, Representative Director Hidetoshi Yamamoto has become more hands on, concurrently serving as chairman and president, and so we have been able to realize synergy effects within the group more than before. We progressed acquiring large-scale copyrights by leveraging the network of Tsuburaya Productions Co., Ltd. and the visual technology of Digital Frontier Inc., and at BOOOM Corporation, Yamamoto's leadership has further strengthened collaborations. I believe that these changes will also have a positive impact on the group's overall earnings structure. We will announce more details in the new medium-term management plan which is scheduled for November onwards.
*PS: pachinko and pachislot