From 11:30 on Feb. 17 (Monday) 2020, FIELDS CORPORATION held a financial results briefing for the Q3 of the fiscal year ending March 2020 at its head office (Shibuya-ku, Tokyo).
This page provides information about our explanations (summaries) at the briefing.
Director Ozawa
Financial Results for the Q3 of FY2019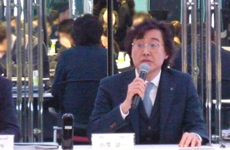 Consolidated P/L (summary)
⇒Financial briefing material page 2
The consolidated P/L is shown in the table below. Net sales was ¥37 billion (-¥610 million YoY), operating loss: ¥4.34 billion (+¥3.07 billion YoY), ordinary loss: ¥4.19 billion (+¥2.88 billion YoY), loss attributable to owners of parent: ¥4.47 billion (+¥4.46 billion YoY).
Consolidated B/S (Summary)
⇒Financial briefing material page 3
Consolidated B/S is shown in the table below. Pachinko/pachislot machine's collection and disbursement schedules have reduced cash and deposits and trade payables.
Full-year outlook
⇒Financial briefing material page 4
Earnings forecasts have been revised in accordance with the "Notification of Revisions to Performance Forecast" announced recently.
The revised full-year forecasts are operating profit ¥100 million, ordinary profit ¥300 million, and loss attributable to owners of parent ¥100 million.
Sales of major titles in the H2
⇒Financial briefing material page 5
We would like to explain the main factors that led to the revision of the earnings forecasts.
In our pachinko/pachislot (PS) sales business, pachislot machine sales were lower than the initial forecast. We guess that the primary factor for this was that the self-imposed restrictions on the installation ratio of pachislot high-gaming machines by Zennichiyuren (a union for pachinko and pachislot halls) was postponed due to the fact that supply of merchandise was insufficient, and this has had little impact on pachinko halls' demand to purchase the merchandises.
In addition, the lengthening of application and compliance of model certification test had an impact on our pachislot machine sales and delivery timeline. In light of this situation, we decided to sell compliant merchandises including those manufactured by consolidated subsidiaries around the public holidays in May, based on sales forecasts that take into account the purchasing capacity of the hall and the removal of old regulation machines in the next fiscal year.
PS-related businesses and group companies
⇒Financial briefing material page 6
The status of businesses other than PS sales and Group companies is as described below. Each business is performing well.
Chairman and CEO and President Yamamoto
Summary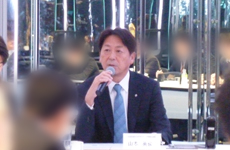 The Company's results for the fiscal year under review are as explained earlier by Ozawa. We review the past, anticipate the future, and implement a variety of measures to achieve even greater profit growth than in the past. In the PS business, as a result of various restructuring efforts over the past two years, the Company has established a structure and targets. In addition, each group company is focusing on businesses that can be expected to grow in Japan and overseas, including Tsuburaya Productions.
We hope that you will continue to look forward to the Group's concerted efforts to advance business for the future.