Fields Corporation held a financial presentation for the first quarter of the fiscal year ending March 31, 2015 in OTEMACHI 1st SQUARE CONFERENCE (Chiyoda-ku, Tokyo) on August 1, 2014 (Friday) at 11:30 am.
This page provides an overview of our explanation (summary) at the financial presentation.
Takashi Oya, President & COO
1. Summary of Results for the First Quarter of the Fiscal Year Ending March 31, 2015 (Consolidated)
Consolidated P/L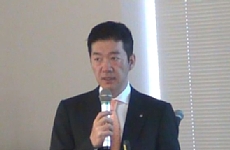 ⇒Page 3 of handout
In the first quarter, consolidated net sales totaled ¥7.4 billion, operating loss was ¥2.5 billion and net loss was ¥1.5 billion.
The main factor behind the fluctuation in earnings was the approximately 26,000 increase in the number of pachinko machines sold compared to the same period in the previous year.
We did not launch any major titles in the first quarter of this fiscal year, but we posted sales from "Pachinko Onimusha: Dawn of Dreams," which was launched in March.
Consolidated B/S
⇒Page 4 of handout
The table shows the consolidated balance sheet.
There are no points particularly worthy of note.
Consolidated cash flow
⇒Page 5 of handout
The table shows the consolidated cash flow.
There are no points particularly worthy of note.
2. Key IP Initiatives
Key IP Initiatives
⇒Page 7 of handout
Our IP initiatives in the first quarter are shown in the table.
In the long term, we believe that holding and cultivating IP is important. We are steadily cultivating this IP for our medium-to-long-term growth.
Topics (1): SOUL ReVIVER
⇒Page 8 of handout
We have begun developing a script with All Nippon Entertainment Works, Inc. and Bedford Falls Productions to make a live action film in Hollywood of "SOUL ReVIVER" (original work and character design by Tohru Fujisawa, original picture by Manabu Akishige), which runs in "HERO'S Monthly."
Topics (2): New IP developments
⇒Page 9 of handout
I'd like to introduce 4 of the IP developments currently underway.
"Sailor Zombie," whose plan and concept Fields developed, was expanded in cross-media formats beginning in April 2014 with a TV drama, comic and arcade game.
Following in the footsteps of "Ultraman Ginga," a TV series first broadcast last year, "Ultraman Ginga S" began broadcasts in July.
"Appleseed Alpha," planned and produced in collaboration with US-based Sony Pictures Entertainment Inc., is already being released throughout the US and is currently being expanded in Japan as well.
We acquired merchandising rights in Japan for the character "Uglydoll," which is particularly popular in the US, and are planning goods development.
(Reference) Pachinko/Pachislot Field
Conditions in pachinko market
⇒Page 11 of handout
In the first quarter, the number of pachinko machines sold in the market overall totaled 510,000 machines (our estimate). There is a projection that the annual sales in the market will total less than 2 million machines. We are, however, off to a start similar to that of the first quarter of the previous fiscal year. The number of titles is increasing, but we note a wider gap between products that sell and those that don't.
Conditions in pachislot market
⇒Page 12 of handout
Overall, there do not seem to be any large-scale titles in the pachislot market, and 310,000 were sold in the first quarter (our estimate). Competition is harsh regarding the number of machines sold per title. Our sense is that conditions are not as bad as the numbers would seem to indicate, and we anticipate that good machines will definitely sell.
Tetsuya Shigematsu, Senior Managing Director
3. Future IP Developments
Image of future IP developments — Fields IP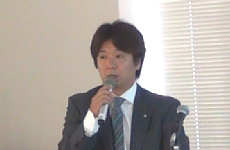 ⇒Pages 14 of handout
I would like to give an overall picture of developments over the next 2 to 3 years.
The table provides an image of the future development of our IP.
The key question is the extent to which we can cultivate our IP and transform it into valuable assets. We are concentrating on commercializing our IP, including developing and merchandising it.
We are particularly focused on remaking Tsuburaya Productions'past IP, such as the "Ultraman" series. We began broadcasting "Ultraman Ginga S" in July 2014, and are merchandising it now. We remain particularly interested in Southeast Asia in our overseas expansion, and are pursing toy and show development together with local creative companies.
Image of future IP developments ― Other Companies' IP
⇒Page 15 of handout
This table shows an image of the future development of other companies' IP.
Over the next 1 to 2 years, other companies'IP will be the core of our operations, but from mid-2016, there will be major developments in movie versions and merchandising of Fields IP.