FIELDS CORPORATION held a financial presentation for the H1 of the FY3/2019 at TKP Tokyo-eki Central Conference Center (Chuo-ku, Tokyo) on November 8, 2018 (Thursday) at 11:30 am.
This page provides an overview of our explanation (summary) at the financial presentation.
Hidetoshi Yamamoto, Chairman, President and Group CEO
Overview for the H1 FY3/2019 and consolidated performance forecast for the year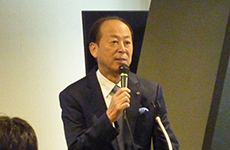 ⇒Page 2 to 11 of Financial Presentation
・FIELDS posted an operating loss of about ¥3.9 billion in the H1 FY3/2019. ・This is mainly because we sold old regulation and later remodeled machines to focus on remaking pachinko and pachislot (hereinafter PS) machines to new regulation machines.
・We will sell the remade machines in H2.
・Operating profit in Q3 is planned to be ¥2.5 billion.
・We have prepared seven pachinko and three pachislot titles for Q4, and expect operating profit to be ¥3.5 billion.
・In FY3/2018 and 2017, we recorded losses on both half-year and full-year bases due mainly to our postponement of title sales resulting from revisions to sales plans by allied manufacturers and a delay in notification of model certification test results. Therefore, in the current fiscal year, we have been proceeding carefully with our plan.
・We announced all titles that we are selling for Q3. Around 80% of those machines have already installed, and we expect to achieve the plan mentioned above.
・For the Q4, we have prepared a business plan that provides for any delay in planned title sales. If sales are better than expected, we may carry out sales beyond the fiscal period. We will make a management decision on this as necessary.
Ei Yoshida, Senior Managing Director
PS distribution unit:New business strategies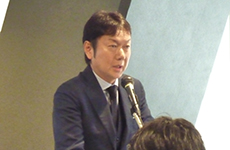 ⇒Page 12 to 13 of Financial Presentation
・FIELDS has challenged since its foundation to contribute to PS industry's development, growth and soundness securing.
・In this revolution term of the industry, we are promoting four new businesses based on mid-term management plan, to solve the issues PS halls have.
E-commerce business
⇒Page 14 to 15 of Financial Presentation
・We will provide proper distribution basis for used machines and operate e-commerce site including sales of various items.
・We are setting up a nationwide distribution system collaborating with distribution companies.
・We started services that respond to various needs in halls; providing guarantee system regarding troubles of used machines and smoking booths.
Sound distribution business
⇒Page 16 of Financial Presentation
・The sound distribution business provides efficient structure which is suitable for market environment through centralizing installation and parts checking operations.
・In current market, every machine/parts replacement needs to be checked by staffs with qualifications. The operations take a large cost for manufacturers and halls.
・We utilize nationwide network to centralize those operations; eventually contribute to securing of sound distribution through cost optimization.
・We have already affiliated with six manufacturers and will conduct 50,000 of installation and parts checking operations this fiscal year.
Mobile targeting ad
⇒Page 17 of Financial Presentation
・We have obtained a patent for a system of delivering targeting ads directly to customers visiting certain halls based on big data owned by us.
・We have already concluded contracts with more than 1,000 halls.
・We also anticipate an increase in the number of contracts as we plan to roll out a service utilizing a new function in 2020.
PS information distribution platform
⇒Page 18 of Financial Presentation
・We will start a video distribution service of PS machines from 2019 spring, to support new machines installation for pachinko halls throughout Japan.
・The service is established by FIELDS and two PS-related media companies.
・It provides various products contributable for hall management.
Summary of new business
⇒Page 19 of Financial Presentation
・We will contribute to the PS industry through sales of new machines and the synergy of four major new businesses, and at the same time, strive to secure and expand new revenue bases.
Takayuki Tsukagoshi, President, Tsuburaya Productions Co., Ltd.
Tsuburaya Productions' growth strategies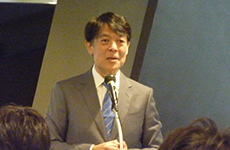 ⇒Page 21 of Financial Presentation
・Firstly, it is my decision to make Tsuburaya Productions Co., Ltd. (hereinafter Tsuburaya Productions) a global entertainment company based on brand strategies.
・I will explain the details in reference to five points described in the document.
Changing to Brand from Character-1
⇒Page 22 of Financial Presentation
・The first growth strategy is making brands which are not only for fans of hero character but a wide range of people.
・Tsuburaya Productions has provided TV broadcasting , toy sales, etc., targeting at boys and girls for over 50 years. We will continue to focus on providing them.
・In addition, we will actively approach the casual users in the future. We will promote individual marketing activities for each target that has different interests and preferences. We would like to get the fans of all ages as a result.
・The second point of our growth strategy is to encourage people to meet Tsuburaya Productions' works, products, and services in chronological order, from babies to the elders. We hope people will enjoy Tsuburaya Productions' works, products and services in each life stage.
・As described above, going forward, we will promote a growth strategy that combines the horizontal axis of expanding targets with the vertical axis of connecting in chronological order.
Changing to Brand from Character-2
⇒Page 23 of Financial Presentation
・Firstly, we will change our business concept to brand business from character business. We would like to expand our market by utilizing value of world view, story and brand promise in addition to unique designability of each character.
・The second point is to generate synergies among works, products, and services. By generating synergies among works that lead brands, and products, live events and other services that serve as important access points for customers, we will expand the market for each business and enhance brand values.
Changing to Brand from Character-3
⇒Page 24 of Financial Presentation
・We change the mind of existing ULTRAMAN's merchandising.
・Until now, we mainly provided products with design of characters' shape which targeted at children.
・From now on, we will structure brands through development of products and services based on various marketing measures.
Changing to TSUBURAYA from ULTRAMAN
⇒Page 25 of Financial Presentation
・Tsuburaya Productions will build three types of brands that are the core of the IP strategy aiming at the global market.
・The first one is the brand based on works focusing on ULTRAMAN.
・The second one is the brand based on works featuring KAIJU with sharing world view of ULTRAMAN.
・The third one is the brand based on animations which has a new world view and story, as TSUBURAYA brand for global market.
Changing to Studio from Production
⇒Page 26 of Financial Presentation
・Tsuburaya Productions implemented TV broadcasting and film screening through production of visual works until now.
・From now on, Tsuburaya Productions will strengthen functions of studio that plan/produce IP in variety platform.
・Accordingly, Tsuburaya Productions will accelerate development both in Japan and overseas, including creation of new IP, such as TSUBURAYA brand.
Changing to Global from Domestic
⇒Page 27 of Financial Presentation
・In the US, Tsuburaya Productions received a favorable ruling in its copyright-related lawsuit in April 2018.
・Accordingly, it intends to pursue global development.
・First, Europe/America and China.
・Next, South America/Middle East.
・In the future, we would like to expand to a larger market, including Africa.
Changing to Digital from Analog
⇒Page 28 of Financial Presentation
・Mr. Eiji Tsuburaya, the founder of Tsuburaya Productions, created a number of innovative special effects works by using film methods and quality at the dawn of TV broadcasting.
・Seeking means of providing customers with works, products and services that amaze them is important for a creative company.
・Therefore, in collaboration with external companies and research institutions, Tsuburaya Productions develops technology that can provide customers with new surprises and impressions, believing that development of special effects combining digital technology will be the key to our growth strategy.
・Tsuburaya Productions aims to take the lead in generating new entertainment going forward through means such as combining games, movies, etc. with existing contents.
・We are structuring the construction for continuing to produce works that please customers. That makes our core.
Hidetoshi Yamamoto, Chairman, President and Group CEO
Summary
⇒Page 30 of Financial Presentation
・FIELDS changed its business model in May 2018.
・FIELDS has returned to its original position of a PS machine distributor, and in addition to selling new machines, the unit is working on developing new business that responds to customer needs.
・The functions of the IP & merchandizing business have been consolidated into Tsuburaya Productions and Digital Frontier.
・Tsuburaya Productions challenges the creation of works for global market.
・PS distribution units aims to resolve variety problems pachinko halls have and expand profit.
Business plan
⇒Page 31 of Financial Presentation
・Now, we set up a three year operating profit plan.
・We also set up the market projections and our planned sales volume of new machines for the next fiscal year and beyond.
・The figures has been established based mainly on the past results of sales volumes for each manufacturer that we independently investigated and analyzed.
・We have described a scenario where the cost for the PS business will be covered by profits from new businesses, and profits from sales of new machines will also be added.
・In addition, we set up operating profit targets that should be aimed at, for Tsuburaya Productions, the development units and the others.