FIELDS CORPORATION held a financial presentation for the Q3 of the FY3/2019 at Shibuya Garden Tower (Shibuya-ku, Tokyo) on February 8, 2019 (Friday) at 11:45 a.m.
This page provides an overview of our explanation at the financial presentation.
Kenichi Ozawa, Director
Summary of consolidated financial results for the Q3 of the FY3/2019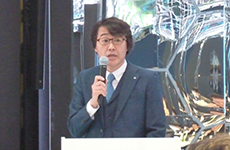 ⇒Page 2 of Financial Presentation
The table shows the consolidated results of the Q3. Operating income increased by ¥2.35 billion, and ordinary income increased by ¥2.54 billion from the previous fiscal year. This achievement is almost the same as, or about ¥100 million to ¥200 million higher than the Q3 forecast announced at the time of the announcement of the Q2 financial results.
Change in SG&A expenses
⇒Page3 of Financial Presentation
We are continuing our efforts to reduce SG&A expenses as part of our efforts to rationalize management, and we have been in a downward trend on the whole. The bar graph shows a decrease of about ¥2.9 billion from about ¥14.3 billion in the previous fiscal year to about ¥11.4 billion in the current fiscal year. This is roughly the same as expected, so we expect to spend about ¥15 billion on consolidated SG&A for the full fiscal year.
Consolidated B/S (summary)
⇒Page 4 of Financial Presentation
The table shows the balance sheet of the Q3. NANASHOW Corporation was changed from an equity-method affiliate to a consolidated subsidiary in Q3. As a result, the balance of consolidated goodwill in the intangible assets section has increased by about ¥1.89 billion. In addition, there is a decrease in long-term loans as investments and other assets.
Consolidated cash flow (summary)
⇒Page 5 of Financial Presentation
The table shows the cash flow of the Q3. The balance of consolidated cash flows at the end of the fiscal year was about ¥27.0 billion. There was an increase about ¥2.80 billion from the acquisition of shares of subsidiaries accompanying the change in the scope of consolidation.
Ei Yoshida, Senior Managing Director
Pachinko/pachislot distribution unit
Business results for the H1, FY3/2019 (review)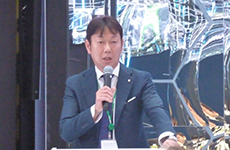 ⇒Page 7 of Financial Presentation
In the pachinko/pachislot (hereinafter, "PS") market during H1, the sales condition for PS machines was sluggish. However, there is an expectation in market revitalization by appearing of new-regulation machines based on the Amendment of the Regulation for Enforcement of the Amusement Businesses Law.
We have allocated this term to the remaking of new-regulation machines. Consequently, sales of old-type machines and later remodeled machines were the main product to sell. In the H1 of the year, we sold about 33,000 pachinko machines and about 10,000 pachislot machines, for a total of about 43,000 units, a decrease of about 56,000 units from the previous year. The operating income in the H1 was about ¥3.9 billion.
Overview of Q3 (Oct.-Dec.)
⇒Page 8 of Financial Presentation
We concentrated on sales of new-regulation machines including major titles such as Pachinko Onimusha: Dawn of Dreams Super Souken and Pachislot LORD of VERMILION Re: in the Q3. We sold about 37,000 pachinko machines in two titles and about 9,000 pachislot machines in three titles, for a total of about 47,000 machines. We started full-fledged operation of the PS distribution unit function by promoting new businesses and began to secure and expand a new earnings base. Overall, we have succeeded in reducing costs through the shift to four units system. As a result, operating income was about ¥2.6 billion in the Q3.
Pachinko/pachislot sales market trends
⇒Page 9 to 10 of Financial Presentation
The graph shows the PS sales market trends. The sales condition for PS machines was sluggish. However, we expect to see an upward trend due to partial changes in pachinko internal regulations and full transition to new-regulation machines. We are currently preparing the best products at this time.
Main PS product lineup Q1-Q4
⇒Page 11 of Financial Presentation
The chart shows our lineup of PS machines announced until today. In the Q4, we are currently selling one pachinko (including two different spec types) and one pachislot title from EVANGELION series. Especially, Mode Pachinko EVANGELION –Super awakening– and EVANGELION –Super berserk– have received a great expectations, and sales are making steady progress.
In addition, we have another title for each pachinko and pachislot. We are preparing to sell them in FY3/2019, though the sales period may change depending on market trends.
New business fields
⇒Page 12 to 13 of Financial Presentation
The table shows the activities of our new business fields. The results of each business are generally beginning to appear in Q3. In particular, the mobile targeting advertising has been very effective, and we are currently providing services to around 800 halls.
As of the Pachinko Pachislot Information Station, the video distribution service will start from spring 2019 to support new machine installation of pachinko halls (hereinafter, "halls"). Currently, over 200 PS machines are sold per year. It is hard for halls to search all of the machines and make decision of which to buy. We discussed this issue with major two media of PS industry to improve such processes of machine selection, and established a new company with the media.
Strengthen distribution function
⇒Page 14 of Financial Presentation
In addition to Pachinko Pachislot Information Station, we focused on strengthening our distribution functions during this fiscal year. We established eight showrooms in addition to seven regional offices and 26 branches, and also moved the Tokyo branch and Tokyo regional office in Ueno to the head office in Shibuya. As of the new business services, we continue to develop and sell innovative products to support the industry as a PS distribution company, by collaborating with various business partners.
IP&MD/Video production unit
⇒Page 15 of Financial Presentation
The diagram shows the business activities in IP&MD/Video production units. IP&MD unit has been promoting various projects based on the brand strategies of Tsuburaya Productions Co., Ltd. In particular, the new original TV anime, SSSS. GRIDMAN, got a high reputation. In addition, a full 3D-CG animation ULTRAMAN will be distributed simultaneously worldwide from April 2019.
Video production unit is promoting the development and outsourcing of video of PS machines based on the mid-term management plan of Digital Frontier Inc. The unit also produced a new original TV anime, The Magnificent KOTOBUKI, jointly developed with BANDAI NAMCO Group.
Besides those measures, IP&MD/Video production units are proceeding with PS project utilizing new contents, through the synergy with PS distribution/development units.