On Friday, November 8, 2019, at 13:00, FIELDS CORPORATION held a financial results briefing for the H1 of the fiscal year ending March 31, 2020 at its head office (Shibuya-ku, Tokyo).
This page provides information about our explanations (summary) at the briefing.
Kenichi Ozawa, Director
Financial results for the H1 of FY2019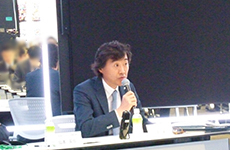 Consolidated P/L (summary)
⇒Financial briefing material page 2
The consolidated P/L is shown in the table below. Net sales: ¥27.6 billion (+53.3% YoY); SG&A expenses: ¥6.9 billion (-¥850 million YoY); operating loss: ¥2.9 billion (+¥990 million YoY); ordinary loss: ¥2.69 billion (+¥1.36 billion YoY); loss attributable to owners of parent: ¥ 2.88 billion (+¥360 million YoY).
Consolidated B/S (Summary)
⇒Financial briefing material page 3
Consolidated B/S is shown in the table below. Collection and disbursement schedules for pachinko/pachislot (hereafter, "PS") machine sales reduced cash and deposits and notes and accounts payable-trade.
Sales in the H1 (Apr.-Sep.)
⇒Financial briefing material page 4
In the PS distribution services business (hereafter, "the PS business"), the Company sold a total of 64,000 units of three pachinko titles and two pachislot titles, and recorded sales in H1.
Titles currently on sale
⇒Financial briefing material page 5
The titles currently on sale are shown in the figure below. In pachinko, the Company sells ayumi hamasaki -LIVE in CASINO-, CR Mach GoGoGo GP7000, and NEON GENESIS EVANGELION Rebirth of Angels.
In pachislot, it sells CARD BATTLE PACHI-SLOT MOBILE SUIT GUNDAM X-OVER and Pachislot Salaryman Kintaro -MAX-.
Outlook for the current fiscal year
⇒Financial briefing material page 6
In the PS business, sales of the five titles promoting in Q3 are expected to be roughly in line with the plan. In addition, preparations for the launch of titles which are scheduled for Q4, are proceeding smoothly, and while taking into account the overall progresses, the Company will decide on titles to be launched, including preliminary titles.
As a result, there is no change to the full-year consolidated earnings forecast announced at the beginning of the fiscal year.
Hidetoshi Yamamoto, Chairman, President and Group CEO
Medium-term business plan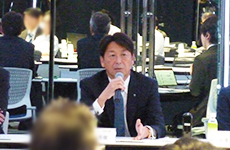 We would like to introduce the concepts of the medium-term management plan in the process of being formulated.
At the 31st Annual General Meeting of Shareholders held in June 2019, the Company announced that it would engage with PS manufacturers and aim to establish a system for developing and marketing "Good Merchandise" with an eye to expanding the number of partner manufacturers. "Good Merchandise" in PS refers to a merchandise that is attractive to fans and excellent in cost performance for pachinko halls, and we are working to brush up titles under development with this in mind. Specifically, it is working to develop merchandise that will sell 30,000 units in pachinko and 20,000 units in pachislot. The latest pachinko machine announced by the Company, NEON GENESIS EVANGELION Rebirth of Angels, is steadily progressing, with orders currently expected to exceed 30,000 units.
At the same time, the Company is carefully examining the time it can achieve this goal, including the development lineup in the future, and we would like to explain the details at the time of its full-year results for the fiscal year under review.
In the other company, Tsuburaya Productions Co., Ltd. continues to promote the monetization of movies and TVs. It is preparing for the release of new movies per a year. The Company believes it can grow if the movie SHIN ULTRAMAN and other titles are available not only domestically, but also in China and other Asian countries.
Digital Frontier Inc. is steadily growing as it receives orders for video production of anime, games, PS and other, and it aims to continue growing its business.
Next, We would like to introduce an our new growth business, Total Workout initiative.
Total Workout opened in 2001 as Japan's first personal training gym, and now has three gyms: Shibuya, Roppongi, and Fukuoka. Initially, it was positioned as a point of contact with various business partners and character IP, but in response to the recent rise in demand for health, we are now putting our energies into taking on the challenge of the health industry market centered on the brand.