Fields Corporation held a business strategy conference in the MARUBIRU HALL and Conference Square (Chiyoda-ku, Tokyo) on May 7, 2014 at 11:30 am.
This page provides an overview of our explanation (summary) at the business strategy conference.
Takashi Oya, President and COO
Pachinko/Pachislot Field Growth Strategy -Business alliances and customer acquisition-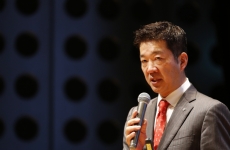 ⇒Page 2 - 4 of handout
We have pursued business alliances with pachinko/pachislot machine manufacturers and have sent pachinko/pachislot machines out into the market that help to acquire customers. This has been the case in the past and at present, and will not change in the future.
If we look back at the history of our business alliance with Sammy and RODEO, we see that it was a new second brand. In this process, we cooperated with allied manufacturers and planned and developed products based on our own unique direction and marketability so that they would not compete with the first brand. By maximizing the use of our sales capacity, we all achieved significant growth.
Currently, we have alliances with 2 manufacturers in the pachinko field, Bisty and OK!!, and in the pachislot field we have alliances with 4 manufacturers, RODEO, Bisty, Enterrise and Mizuho. In 3 years, we will have new partnerships with D-light and NANASHOW, bringing these alliances to 5 for pachinko machines and 6 for pachislot machines.
The status of business alliances with these partners is as follows.
Sammy Corporation
We began a business alliance with Sammy in 1995 and sold pachinko machines. From 2000, we began selling Sammy-brand as well as RODEO-brand as RODEO's general sales agency.
Bisty Co., Ltd.
We began selling Bisty-brand machines from 2003, and launched machines utilizing IP such as "Evangelion," thus acquiring new customers.
OK Co., Ltd.
We formed a business alliance with KYORAKU SANGYO in 2008 and began selling OK!!-brand machines in 2012. We have launched 3 titles so far, and this brand is becoming increasingly popular.
Miuzho Corp.
We formed an alliance with Universal Entertainment in 2011, and began selling Mizuho-brand machines in 2014.
"ANOTHER GOD HADES," launched in the previous fiscal year, which was the first fiscal year for sales, sold in large numbers.
Enterrise Co., Ltd.
We began selling Enterrise-brand machines in 2010 and cooperated with planning, development and sales, growing this brand into one with a strong presence in the pachislot market.
D-light Co., Ltd.
We began an alliance with D-light, the second brand of Daiichi Shokai Group in 2014.
NANASHOW Corporation
We began an alliance in 2014 with NANASHOW, which joined Nikkoso (Japan Pachinko Manufacturers' Association) in 2013. Previously, NANASHOW has conducted outsourcing for product development and we expect products to be launched in the near future.
Pachinko/Pachislot Field Growth Strategy - 3-year lineup -
⇒Page 5 - 22 of handout
The 3-year lineup for each brand is shown in the tables here.
We expect 11 titles (or 12 titles) in the year ending in March 31, 2015, 20 titles (or 21 titles) in the year ending in March 31, 2016 and 25 titles in the year ending in March 31, 2017.
Only 1 RODEO-brand title will be included in the product lineup for the year ending in March 31, 2015, which had been postponed from the previous fiscal period; other titles are being negotiated and are thus indicated in parentheses.
Sales targets are undecided, but we hope to launch pachislot/pachinko machines that can sell at an average of 30,000 per machine and provide these to the market.
Our basic concept is to create pachinko/pachislot machines with our partners that will acquire new customers.
As with SANKYO's "FEVER" pachinko machine launched in 1980, Universal Entertainment's "CRANKY CONDOR," a pachislot machine launched in 1985, and the other pachislot/pachinko machines in which we have taken the central role in developing utilizing copyrights since 2000, we will continue to work with our partners to develop business strategy and create markets while focusing on producing products that will attract new fans.
Selling more than 20 titles in the future would be difficult with our current sales system. Accordingly, we plan to expand our regional and branch offices and number of sales staff from the years ending in March 31, 2015 and March 31, 2016.
Tetsuya Shigematsu, Senior Managing Director
Current status of Tsuburaya Productions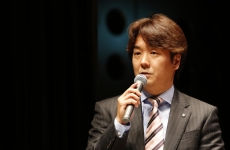 ⇒Pages 23 - 26 of handout
The Ultraman series has attracted loyal devotion for a long time-span, extending from the current generation of children to the "grand generation" of people approaching retirement, and its content is being rejuvenated in various forms, including events and commercial tie-ups.
If we look back at Tsuburaya Productions' history, we recall that Ultraman had a major impact when it was first established in 1963 during the Showa years. Revenue also increased, but subsequently income and manufacturing costs offset each other.
In the Heisei years (from 1989), new creations such as Ultraman Tiga and Ultraman Cosmos were launched, but manufacturing costs surpassed income, weakening the financial structure as a result.
Subsequently, Ultraman came under the TYO Group's umbrella, and although financial conditions improved slightly as a result of financial restructuring, the company was not able to repay all of its liabilities.
It was with this encumbrance that Tsuburaya Productions joined the Fields Group in 2010, finally eliminating its negative net worth in the fiscal year ended March 31, 2014.
Going forward, in Japan we will create new series for children in cooperation with BANDAI and will work to expand license revenue. Overseas, we will expand Ultraman and related business, particularly in Asia. We have had more inquiries from North America and Europe, but will move forward with the license business and advertising business, taking litigation matters into account.
Cross-media development of IP created by Fields
⇒Page 27 - 30 of handout
I will now explain cross-media development of the IP that we have created.
Based on the Developing Business Model released in May 2012, we will pursue efforts to cultivate and commercialize IP in alliance with the respective fields.
For example, in the case of "Majestic Prince," we broadcast TV animation in conjunction with the comics, and subsequently develop social games and goods. In the future, we will also consider expanding into pachinko/pachislot machines as we move forward with tie-ups.
In addition to the above, we are also taking steps with multi-media partners, including the video/live media field, to pursue joint original works and hold secondary copyrights.
We believe that, by increasing the IP that lies at the foundation of our business model, our revenue will increase going forward.